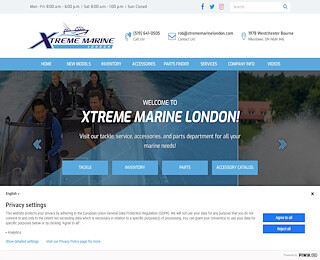 There is nothing more exciting and enjoyable than spending time on the water. If you are looking for a versatile style boat that will hold up to plenty of wear and tear, consider a pontoon boat. A pontoon boat is a wonderful choice because you can use it for many activities and it is family-friendly. At Xtreme Marine London, we have a great selection of high-quality boats to fit your needs and your budget.
What Are Pontoon Boats?
Pontoon boats in London are boats that are flat style boats that rest on tubes or pontoons. Pontoons are stable on the water, which makes them ideal for relaxing, lounging, fishing, and parties. You can find pontoon boats in a wide range of sizes and styles. Some have many amenities that make the ride more luxurious. The deck of a pontoon boat is large and wide so that you can accommodate a number of passengers. Pontoon boats are perfect for families because they are safe, especially for young children. Pontoon boats are easy to maintain and last a long time.
Pontoon Boat Buyer's Guide
When you choose pontoon boats in London, start by deciding how you intend to use the boat. Some styles are better suited for fishing, while others are designed with entertaining in mind. View the many types of pontoon boats we offer on our website. Compare the features, including the motor, trim package, boat length, seating capacity, and floor plan. Your boat will last you for many years, so always opt for the best boat you can afford. You can see photos of the many boats we offer for sale on our website.
Can I Finance Pontoon Boats in London?
At Xtreme Marine London, we offer financing options for pontoon boats in London. We will provide you with financing that will give you affordable monthly payments based on your income. You will find a large inventory of boats for sale, including both new and used choices. You will often find some substantial savings on last year's models once the new models arrive. Our experienced team is happy to assist you in finding a boat that will exceed your expectations without breaking the bank.
Visit Xtreme Marine London
At Xtreme Marine London, we make it easy to purchase pontoon boats in London. We have a large selection of boats, and you can shop online or in person. We are an authorized dealer for Legend Boats, Harris Pontoon Boats, Larson, Triton Boats, Crestliner, Monterey, Thunder Jet, and Mercury Outboards. You can view much of our inventory online or stop by our showroom to see the boats in person. We are a family-owned and operated marine shop that we established in 2007. We offer a wide range of marine products and supplies, and we have a reputable service department. We have some of the best boat selections around. We are happy to answer any questions you have. We invite you to stop by our showroom to see our great selection and to find the boat of your dreams.
Pontoon Boats London